Podcast Marketing Tips for Sports Podcasts, or Marketing Tactics We Can Learn From Sports Podcasts
I don't make a sports podcast, but I've got a marketing plan for anyone who does.
Top Sports Podcasts
Here, come here, let me show you something. This is a table of the top sports podcasts and their Twitter followers and number of Tweets they've posted.
Do you see what I see? All are on Twitter yes. But that last column. Look at how many Tweets each of these podcast hosts are posting. The average number of Tweets done by popular sports podcasters (on this list) is 47,000! 47,000 Tweets! What does that tell you?
Tweet your head off!
If you are a making a sports podcast I know a few things about you. You love sports so much that you are willing to sit down with a mic and yap about it for hours. Take your yapping to Twitter. Look you already love talking sports, it's natural for you and have fun doing it, so do it on Twitter.
Why?
The funnel works like this:
There are hundreds of millions of people are on Twitter.
There are millions of them who like the same sport you like.
By joining in on the conversations about sports you become known to have a unique opinion.
If people find you interesting on Twitter they'll follow you.
When they follow you, you sometimes Tweet about your podcast and there's a link to it in your bio, making it super clear that you have a podcast.
If people want to hear more from you, they'll subscribe to your podcast.
And the more you practice the better you get.
In short, if you build yourself a Twitter audience, then your podcast will grow. Don't be tricked into thinking it works the other way, where if you build a big podcast you're Twitter following will grow too. It's a LOT easier to get Twitter followers vs getting podcast listeners. So take the easy route. Build your Twitter up, then convert them to listeners.
Twitter Bio
First you want to be clear you have a podcast though. I think the Fantasy Footballers have a great Twitter bio. Take a look.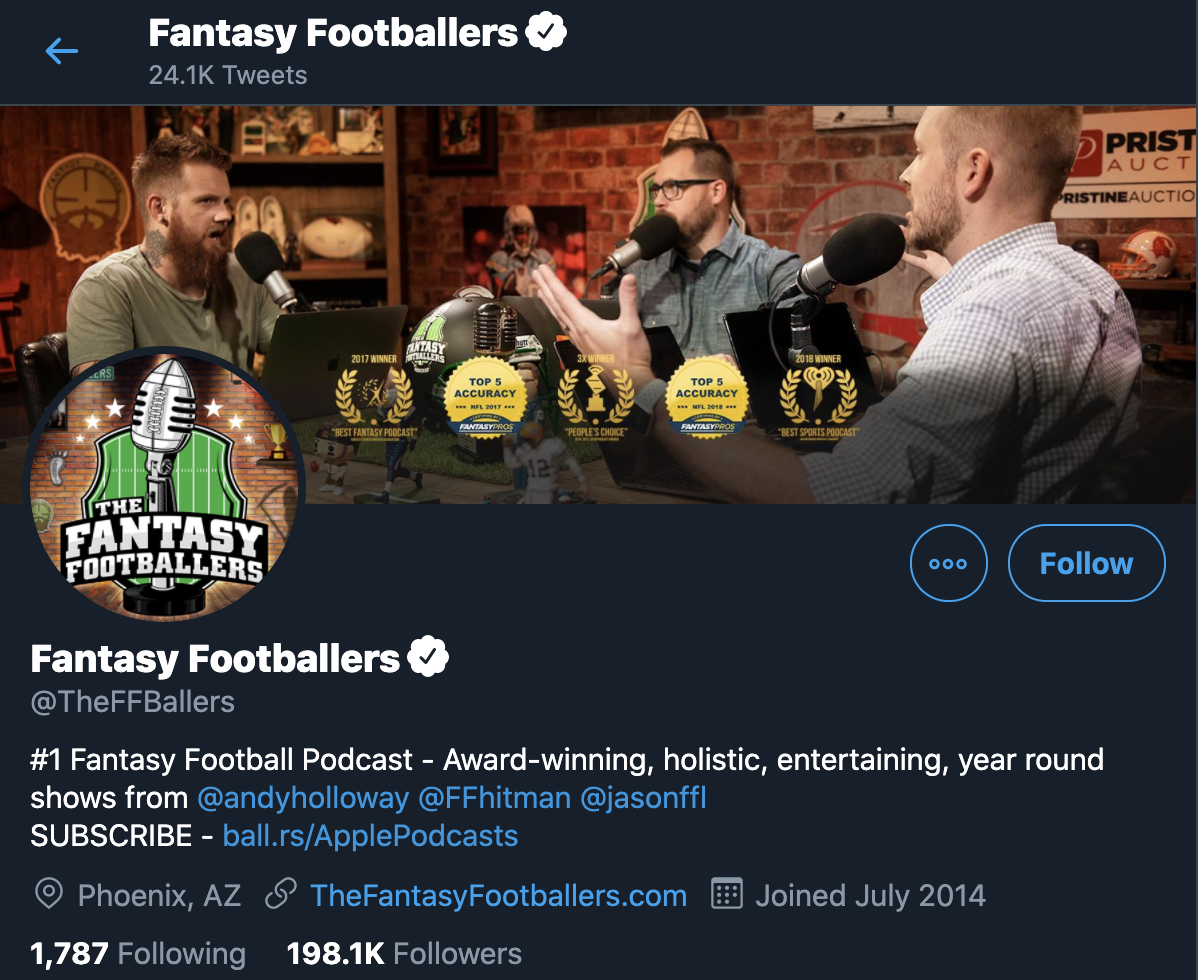 Look at that. It's beautiful! Here's what I like:
The profile picture and the cover photo are two different images. They compliment each other nicely.
The cover photo is 3 guys in front of mics talking. That makes it obvious right away these guys have a podcast. Sweet!
Then the description says "#1 Fantasy Football Podcast". What a beautiful and simple description. So many podcast Twitter accounts don't even mention they have a podcast like we're supposed to magically know or something. That's what this account leads with.
It lists all the hosts (which by the way all 3 hosts have Tweeted over 10k times each).
Then there's two links to subscribe Apple Podcasts and their website.
By the way the Fantasy Footballers is a great podcast to be inspired by if you're a sports podcaster. Most of the other top sports podcasts were started by ESPN TV personalities or old radio show hosts. But the Fantasy Footballers was just started by 3 nobodies. 3 guys just really good friends who liked talking football, and it rose to huge success. I love seeing stories where nobodies blow up like that.
What to post?
Well you can always take a look at those sports podcasters I listed in the table above. You think those guys have Tweeted 40,000 times "LISTEN TO MY PODCAST"? No you bet they haven't. Instead they are Tweeting about... you guessed it, sports.
Here's some suggestions on what to Tweet:
Live Tweet while watching the game. You can knock out 100 posts in one game easy. I'm sure you have a lot to say about what you're watching so talk about it on Twitter. Join in on other conversations about the game, use hashtags to be part of the frenzy. Tweeting along with millions of others during a live game is kinda fun to be part of the action.
Ask questions. "Did anyone else notice this player limping?" "Who do you think will score the first point in tomorrows game?" Questions get conversations going. You want engagement. If you're just talking to yourself, people might not care. But questions encourage others to join in your chat.
Express your opinion. "They really need to pull that player! He keeps dropping the ball!" "Our team will beat your team."
Post news stories. "Our team just picked up a new player!" "The coach is sick and won't be at the next game."
Post about your podcast. "Next episode we'll break down what went right in today's game and what went wrong. Tune in here: hxxps://example.com"
Show off your stuff. Pictures of the snacks you're eating during the game, the podcast setup, the signed game ball you got when you were 10, your trophies. Whatever, these things are cool to share.
Inspirational quotes. What's great about sports is there's always an adversary to overcome. And from that there's a lot of great inspirational quotes on how to overcome your adversary and win.
Upcoming events. What's coming up next you want people to know about?
Educate people. Teach people about obscure rules or history or fundamentals of the game. Strategies and tactics and training tips all are good too.
Host or Show?
At some point you might have the question, should the host be Tweeting like crazy, or should we make a Twitter account for the show itself and then Tweet from the show's account? Ya I don't care, doesn't matter, just get Tweeting already!
As for the top podcasts, it's a mixed bag. Some have show Twitter accounts. Most have hosts Tweeting. So ya either one is fine, both is good too. I personally have my own Twitter account and my show's Twitter account.
More Listening
If you aren't quite sure why posting on social media like this is an effective marketing strategy check out the Gary Vee podcast. https://anchor.fm/garyvee. Start by listening to any of "keynote" talks on his podcast. Those are both motivational and informative to help you get into the mindset. Gary will explain why you should post 10 times a day and motivates you to do it.
Summary
I'm not a sports podcaster, but what I learn from this is how passionate sports podcasters are. It's obvious that when someone Tweets 40,000 times about sports and has a podcast about sports they have a lot of passion about what they do. This I think is what separates some podcasts apart. And it doesn't matter if it's sports or any other topic. When you pour that much passion into what you're doing, it shines through and people see that and appreciate that. It feels more real and connected. So, no matter your podcast topic, I say go over the top excited about it, Tweet your head off about that topic, and people will appreciate how deep you're willing to go on that topic.